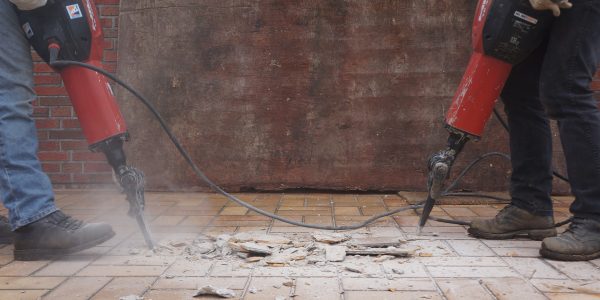 Construction and renovations can be a hassle since they are unpleasant. Debris and materials left over after the project's demolition and installation are common, and the finished product is sometimes very different from what you had anticipated.
The clean property looks more attractive! Post-construction cleaning is essential in handing over the keys after a restoration.  It's not only dust that must be cleaned up when a building project is completed.
Cleaning and polishing new floors and walls and fixing safety hazards like unsecured cables or leaks are part of the job. You may think of post-construction cleaning as a last-minute revision to a manuscript, but it's critical to the quality of the final output.
MA Junk's post-renovation cleaning services are comprehensive, detailed, and multi-phased. During the last stages of construction, we may work with your contractors to ensure that your space is clean and ready to be used while fixing any remaining difficulties or problems.  Our post-construction cleaning services will ensure that your new area is ready for move-in and set-up after your construction is over and all debris is gone.
You can trust MA Junk Junk Removal Service for every type of post-construction cleaning service. We make your new business facility welcoming, clean and pleasant, no matter what services you pick. We also work closely with contractors and other service specialists to guarantee that your deadlines and timeframes are fulfilled since we recognize that construction may be unexpected.
Here are the areas that we ensure when you opt for our construction cleanup services:
All surfaces are free of dust, debris, and scuffs.
Woodwork, fixtures, and appliances should be vacuumed and dusted.
Trim, baseboards, frames, and door jambs should be cleaned.
Debris removal from tile and brick surfaces.
Removing any labels and stickers from any installations that may have been installed.
Maintaining a tidy residence after construction.
Ask our expert if you are looking for any construction cleanup service in Annandale, VA. Our expert and vetted team are always ready to clean up residues or any debris left after the construction. If you're looking for a full variety of commercial junk removal and services in Annandale, Virginia, you can count on us. Dial (703) 587-8279 to book an appointment with us right now.
Frequently Asked Questions
What is cleanup in construction?
Our cleaning team cleans up everything from fans and lights in the ceilings to the sills of cupboards and windows to the baseboards, countertops, and appliances. Cleaning construction sites also includes mopping outside pathways.
 What is Post Project Cleanup?
All floors must be swept, fixtures and appliances must be washed, windows must be cleaned, dust must be removed, and the HVAC system must be cleaned.