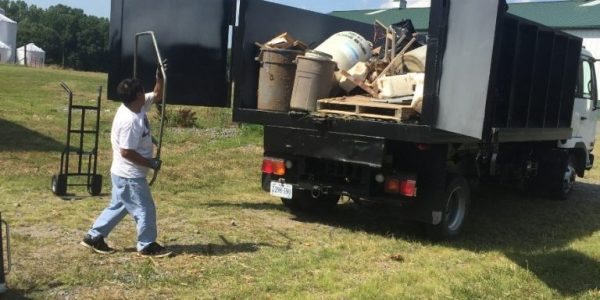 We are the best dumpster rental service in Washington DC, with branches in many city neighborhoods. You can get a dumpster rental in Woodbridge VA. If you are looking for junk dumpster delivery or dumpster rental services, we have quick and affordable service for you.
You can book an online appointment to get dumpster rental prices. Our dumpster rental company has the most cost-effective and straightforward pricing plans. Our trucks are available for hauling debris, furniture, or garbage removal.
If you are a big manufacturing firm or a new enterprise, we can help you with our dumpster rental and roll off dumpster. Our garbage collection offers effective removal of debris from the construction site. From your booking call, we will be on duty until the last piece of garbage is collected.
A cleaner, better, and healthier environment where people can grow, not just now but for the following generations. Ma Junk Dumpster Rental Service has a track record of reaching sustainability objectives and is devoted to offering environmentally responsible recycling. You can also call us for Washington DC Dumpster Rental.
Best Dumpster Rental Service in Virginia
MA Junk Junk Removal provides the best dumpster rental in Virginia for all types of trash and garbage cleanup tasks. If you are confused about which dumpster you should rent, you can call us, and we will ensure we take the right dumpster for you.
We offer rental services depending on your business need for one month or even years. We do not believe in surprises, no hidden charges, and no high prices for our services. You can call us for a booking, and we can pick up your desired dumpster. We don't need to pick up the dumpster, and we will deliver it to your doorstep.
MA Junk Removal & Cleaning Service has an excellent team with well-trained employees. We offer a wide range of sizes in dumpster rentals for your business or office use. Here are the sizes of dumpsters we rent out for our customers:
15-Yard Dumpster Rental for medium-sized residences, restaurants, and retail stores businesses.
20-Yard Dumpster Rental for both medium and large-scale businesses. These can collect a significant amount of garbage.
30-Yard Dumpster Rental for large-scale businesses like warehouses, industries, etc.
We rent ten-yard, twenty-yard, and thirty-yard dumpsters with our drivers on flat rates without any hidden charges. You can book them to haul away anything you want. Book Now!
Frequently Asked Questions
Can I load everything into the dumpster? 
You can load anything on the dumpster as long as it is not filled. We do not haul hazardous substances because they fall into different hauling categories and cannot be dumped like other junk. 
How much garbage can we load on a dumpster?
You can ensure that everything from your garbage is thrown inside the dumpster while loading it. Nothing should fall over the edges of the dumpster or protrude through into the top. Overloading a dumpster slows down waste collection because trucks are unable to transport overloaded dumpsters.