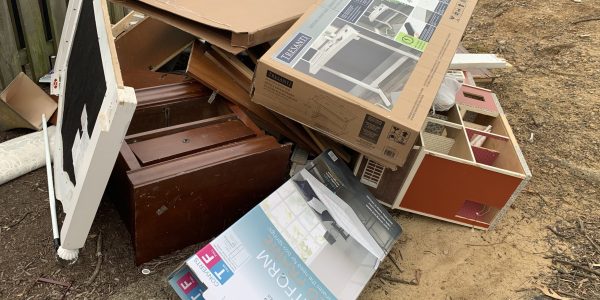 You own a home and rent it out or a professional property manager who is worried about old tenants' leftovers. Evictions usually necessitate the rentals of dumpsters or competent disposal services. MaJunk is the best available junk removal and eviction cleanout option.
Several situations, including foreclosure and nonpayment of rent, can force you to evacuate the place. Whatever the source, the consequences can be nasty and frustrating. Our well-trained dumpster rental residential team will provide complete assistance in tenants' remainings.
We have an incredible team to improve the experience of turning an eviction in no time. Our well-trained team reduces the time to prepare the unit for auctions. The company's professional eviction cleanout staff will remove all remaining trash responsibly within the given time limit.
What items do we clean out?
You can find us by typing dumpster trailer rental near me for eviction cleanout. Our efficient team will respond to you on time and will be there for help. You can also get best apartment cleanout service in Annanadale. Here are the following services we ‌provide;
Household trash and dumpster
New or old furniture
Electronic appliances
Renovation debris
Outside debris
Former tenants' belongings
How do we work?
We can help you by cleaning out flats which have already been left in turmoil. We simplify things for you to arrange the property for the next renter by removing all undesired objects from the grounds. Eviction cleaners remove all the junk dumpsters will care and ease.
Why we are the best in town?
We have a large staff of experienced eviction cleaning specialists that are available to remove all the former tenants' trash quickly. Our dedicated account manager is ready to give you transparent prices in our broad market offers and organise eviction cleaning. We can provide our one-time and regular cleanout services to you.
MA Junk Removal & Cleaning Service offers flexible consultations to match your project requirement. Our efficient crew will always be on time and equipped with everything they need. We'll start working as soon as you confirm our service charges. We undertake all transportation and junk dumping once the property is emptied.
Frequently Asked Questions
Would we provide outdoor cleaning or a whole apartment eviction cleanout?
Well, it depends upon your demand. If you need your flat or workplace clean ultimately? We are glad to do that for you. Whether the cleaning process entails eradicating everything within range or just a modest collection of items, our crew can altogether remove things in or out in a couple of hours. We know your schedule may be challenging. The following client must have a positive impression of the space. So let us know, and we will take care of the eviction cleanout.
Does the eviction cleanout process affect me?
We aim to make the foreclosure process as pleasant as possible for you. Our staff has managed innumerable eviction cleanouts of houses, flats, workplaces, storage units, and shipping containers. We can clear out any size facility with ease in no time. Once you are willing to put a junk removal strategy in operation for a flawless cleanout, contact MaJunk Washington for a fantastic experience.