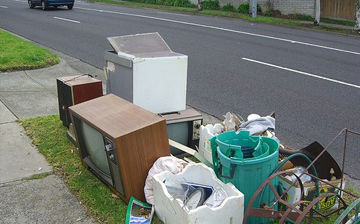 Junk removal Alexandria, VA
Maintain the neat and orderly appearance of your property with MA Junk Removal & Cleaning Service. We are your source for comprehensive site cleanup and junk removal in Alexandria, VA. With our same-day junk removal services  just call us at 703-587-8279   and no matter what the circumstance is we will be there to handle your excess junk and garbage. Whether you are clearing out your yard, place of business, or construction site, you can count on us for prompt and punctual service.
Junk: it's unsightly and can harm the appeal of your property. When it's time to clear out your area, we're here to help. Our company has the training and experience to clean up debris, junk, and waste material. We use heavy-duty equipment and the latest methods to ensure the safe disposal of construction debris, yard waste, broken appliances, and more. Our services include:
Mattress Removal in Alexandria

Furniture Removal in Alexandria

 Property Cleanouts in Alexandria

Hot tub Removal in Alexandria

Commercial and Residential Cleaning in Alexandria

Commercial and Residential Junk Removal in Alexandria

Demolition Service in Alexandria

Appliance Removal in Alexandria

Yard Cleanup in Alexandria
The removal of unsightly debris makes your property more attractive. Also, it reinforces the safety of your area, minimizing the risk of injury, lawsuits, and safety and health violations. Let our professional haulers remove your junk. We work carefully so that unwanted materials are removed from your grounds. Our team also emphasizes care and professionalism–while we are on your site, we respect your property.
We understand that many companies in Alexandria offer similar services to us, but none come close to the amount of value we offer to our clientele. We understand that you may just be looking for a "simple" junk removal job, but our company takes it further than that and provides a memorable service  that goes above and beyond what you originally paid for and we know that we don't have to offer this level of service and quality, but we do anyways because we have an obligation to serve the customer to the best of our abilities! We also have a quote that we live by that says, "The customer is always right" what we mean by this is that when we are doing a junk removal job we always listen to what our customers wants taken out first or items that they recommend need immediate attention. 
One of the reasons we decided to get into the Alexandria, Virginia junk removal scene was because we saw a service that people actually wanted done! We saw many of the residents in this area had a lot of junk that went unaccounted for that would just pile up and as this accumulates you start to think that it is okay to just live within this state of disarray, however that was until we arrived on the scene and provided our services!
We also understand that many people believe that what our company does is simple and they end up making common mistakes that could of easily been avoided if they just had the proper guidance or just hired us to begin with! Some of the common issues that arise when you don't seek help hauling your junk include but are not limited to: 
"do it yourselfers" – Many people think that removing items is an easy task until they see the pile of clutter and things that have accumulated throughout the years stack up. At this point your junk becomes a more formidable opponent then you thought.
Wrong Clothing – One thing that many people tend to overlook is wardrobe! When you are clearing debris, clutter and etc., you never know what you may come in contact with! Nine times out of ten it tends to be something dangerous like a sharp object or something that you should avoid like mold or chemicals.
 Wrong Equipment – When your clearing junk, you want to make sure you don't damage anything valuable like your house or even your body! Many people think that getting a truck or a U-Haul van is all it takes to dispose of junk. This couldn't be any further from the truth! You are going to need the proper equipment which includes things like a dumpster, also if you ever cared about your front yard then it makes sense to store items in a container that isn't your front porch or lawn!
Here at MA Junk Removal and Cleaning Services we offer consulting, and will even guide you through the process of removing your junk through the telephone if you are that gung-ho on doing it by yourself, however after reading through all the difficulties and strenuous work and precautions that need to be taken into account you probably don't want to handle that burden, and you shouldn't have to that's why we are here! Our exclusive Dumpster Rental Alexandria, VA service may be what is needed in this case! We offer this service to show our clientele that they are always our priority even if they want to DIY. Anyways you won't have to worry about any of that when you book us to do the junk removing for you, so just sit back in your luxurious loft in Alexandria, VA and let us do the junk hauling! Our company also takes pride in the affordability of our services, our prices are the best in all of Alexandria! We know that many people may want their junk removed, but financially struggle and we took that personally! Everyone deserves comfort and a piece of mind that's the reason we started our company, so everyone no matter what their budget is could have their junk removed!  We offer bundles, coupons and deals to help anyone out no matter what the budget is! You are not just getting a simple junk removal service when you choose our company, instead you are getting a life time friend that goes beyond the essential or regular job assigned and offers more value then what was paid for, we do not say this to brag, but with confidence that once you choose our junk removal services within the beautiful city of Alexandria, Virginia you will fall in love with our company and culture that we provide to all of our clients! With all this being said when you are in need of junk removal in Alexandria, VA you know who to call 703-587-8279  MA Junk Removal & Cleaning is here to help!