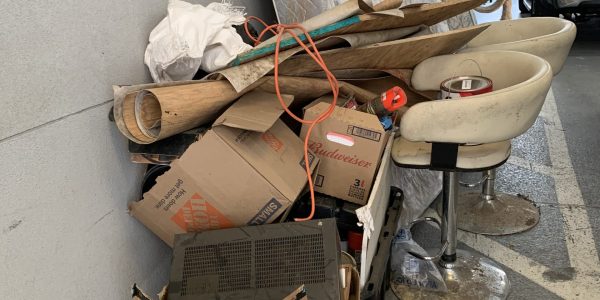 Alexandria is located just a few miles south of Washington, D.C., and it's convenient to live if you work in the city. It's also a great place to raise a family. The public schools in Alexandria are some of the best in the state, and there are plenty of private schools to choose from. Plenty of junk removal services are available in the area, allowing residents to keep their houses and businesses spick and span. As a result, you will find Alexandria a safe and clean environment for living.
Junk Removal Service in Alexandria
If you are looking for the best junk removal service in Alexandria, look no further than MA Junk Removal & Cleaning Service. Because what sets Alexandria's MA Junk apart from the rest is our commitment to cleanliness. We understand that a clean house is essential to our customers, and we go the extra mile to ensure that their homes are clean and clutter-free.
Junk removal can be messy, but our professional junk haulers are trained to clean up after themselves. We will also sweep dust before we leave, so you can rest assured that your home will be just as clean as new.
In addition to our regular junk removal services, we also offer a deep cleaning service. This service is perfect for homes that have been neglected or need a thorough cleaning. We'll clean every nook and cranny, and we'll even get rid of those pesky dust bunnies that seem to multiply no matter how often you clean.
Junk accumulates over time, and getting rid of it can be challenging without professional help. Our team has the experience and types of equipment to quickly and efficiently eliminate your junk. We will also recycle or donate any items we can, so you can be sure that your junk is going to good use. Another reason to call MA Junk Removal & Cleaning Service is, that we are currently offering junk hauling in more than 13 cities including Arlington, Fairfax, and Centreville.
If you plan to move. Moving is a lot of work, and it can be very stressful. We can help you eliminate unwanted items before you move so that you can focus on other things. We also offer a cleanup service after you move. We will come and pick up any boxes or furniture that you no longer need. It can be a great way to eliminate junk you don't want to take to your new home. We'll leave your home clean and clutter-free, so you can focus on the things that matter most.
How does our junk removal service help?
Our junk removal services are for private residences, commercial buildings, and building sites. We haul all types of junk, including old appliances, furniture, building supplies, and yard rubbish, that has outlived its usefulness.
Not only do people's apartments become a dumping ground for unwanted items. More attention should be paid while clearing up trash from outside areas. We regularly help homeowners remove other visible elements that have the potential to be overlooked over time to improve the home's visual appeal.
Hiring a Alexadnria junk removal service is the best option. It's not even required to shift everything. Direct our staff toward the things, and they will be removed. Do you want to make your outside space appear brand new? If you'd like, we may come and haul away the unwanted goods for you, saving you time and effort.
What other services do we offer?
If you're looking for property cleanup services in Fairfax, you've come to the right place. We provide a range of cleanout services, whether you are a home or commercial customer. Our company also offers removal services for mattresses, furniture, and hot tubs. We are delighted to help you with bunch of our services catered and designed when you are moving to a new location and need to get rid of old junk because we are the best junk removal in Arlington.
Here is a short list of the services you can contact us about:
Property Cleanout in Alexandria
Dumpster Rental in Alexandria
Rental Property Cleanout in Alexandria
Mattress Removal in Alexandria
Furniture Removal in Alexandria
Property Cleanouts in Alexandria
Hot tub Removal in Alexandria
Commercial and Residential Cleaning in Alexandria
Commercial and Residential Junk Removal in Alexandria
Demolition Service in Alexandria
Truck Rental in Alexandria
Appliance Removal in Alexandria
Yard Cleanup in Alexandria
Shed Removal in Alexandria
Frequently Asked Questions
How do we charge for hauling junk?
Typically, many businesses will base their prices on variables, including the amount of space used in the truck, the distance traveled, the cost of gas, and the time and effort spent disposing of the waste. But, we provide them with all-inclusive flat rates. Get a free estimate from our helpline.
Do we also offer dumpster rental in Alexandria?
Yes, we have different sizes of dumpsters available for rent in Alexandria. You can talk to us about your needs or junk size, and our experts will recommend the best.
Junk Removal in Alexandria