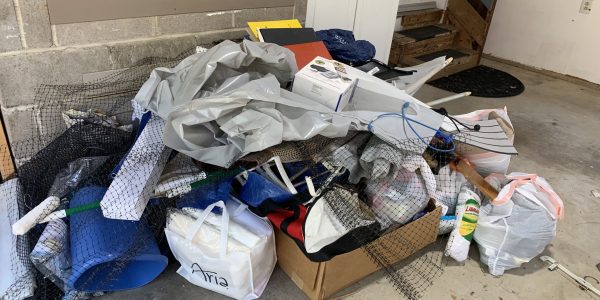 Indeed, the city of Centreville is an enormously beautiful place to live. It is full of friendly people, and there is always something to do. The city has thousands of commercial and residential properties, so there's always a need for junk removal and cleaning service. If you are looking for affordable junk removal in Centreville, see no other service than MA Junk Removal & Cleaning Service. We are offering the most reliable services for junk removal in Centreville. 
Best Junk Removal in Centreville
Junk removal is messy and cumbersome, but our professional junk removal service makes it easy. Our junk and cleaning services are a great way to keep your home or office clean and tidy. Removing junk yourself is a pretty difficult and time-consuming job. If you're not experienced in junk removal, you may not know how to dispose of certain items properly, or you may damage your property in the process.
You'll save time. Hiring a junk removal service will save you time and hassle. Instead of spending your weekends and evenings trying to remove junk, you can relax and enjoy your free time.
You'll save money. Although you may have to pay for a junk removal service, it will likely cost less than if you tried to remove the junk yourself. When you factor in the cost of renting a dumpster, buying and disposing of certain items, and the time you'll spend removing junk, a junk removal service is usually a more cost-effective option.
You'll get rid of your junk safely and responsibly. When you hire a professional junk removal service, you can be confident that your junk will be disposed of safely and responsibly. Many junk removal companies recycle or donate items whenever possible, so you can be sure your junk is being put to good use.
You'll have peace of mind. Once you hire a junk removal service, you won't have to worry about your junk anymore. You can be confident that it will be removed quickly and efficiently, without any hassle on your part.
Our junk removal services are for private residences, commercial buildings, and building sites. We haul all types of junk, including old appliances, furniture, building supplies, and yard trash, that has outlived its usefulness. Not only do people's apartments become a dumping ground for unwanted items.
More attention should be paid while clearing up trash from outside areas. We regularly help homeowners remove other visible elements that have the potential to be overlooked over time to improve the home's visual appeal. Hiring our junk removal service is the best option. It's not even required to shift everything.
As we told you earlier, Centreville is getting popular for new commercial and residential projects. After great satisfaction from our customers in Tyson Corner and Mclean, we are also offering and providing the best cleaning services in Centreville, such as:
Property Cleanouts in Centreville
Rental Property Cleanout in Centreville
Mattress Removal in Centreville
Furniture Removal in Centreville
Property Cleanouts in Centreville
Hot tub Removal in Centreville
Commercial and Residential Cleaning in Centreville
Commercial and Residential Junk Removal in Centreville
Demolition Service in Centreville
Appliance Removal in Centreville
Yard Cleanup in Centreville
Frequently Asked Questions
How can I pay for junk removal?
Cash, credit, debit, and checks are all accepted forms of payment for our junk removal service from your property. No matter what method you choose, you can always pay after our work has been finished.
How do we charge for junk hauling in Centreville?
Typically, many businesses will base their prices on variables, including the amount of space used in the truck, the distance traveled, the cost of gas, and the time and effort spent disposing of the waste. But, we provide them with all-inclusive flat rates. Get a free estimate from our helpline.
Do we also offer dumpster rental in Centreville?
Yes, we have different sizes of dumpster rental in Centreville. You can talk to us about your needs or junk size, and our experts will recommend the best.
Junk Removal In Centreville