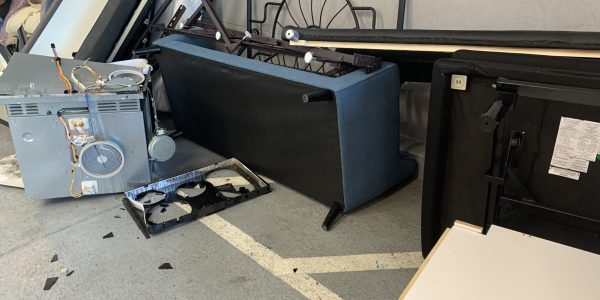 McLean is a town in Fairfax County and part of the Washington metropolitan area. It is home to many diplomats, politicians, and businesspeople. The residential areas of McLean are well known for their large houses and manicured lawns. Many of the homes in McLean are on extensive land, and some even have private gardens and swimming pools. McLean is also home to many private schools and colleges. Therefore, there's a constant need for a reliable junk removal service in the town.
Best Junk Removal in Mclean
Are you looking for the best junk removal and cleaning service in McLean? Look no further than MA Junk Removal & Cleaning Service. We are a top-rated junk removal and cleaning company servicing the McLean area for 15 years. We provide our customers with the best possible service and experience. We offer a wide range of junk removal and cleaning services, including:
Residential junk removal
Commercial junk removal
Construction junk removal
Debris removal
Yard waste removal
And more!
No matter what your junk removal or cleaning needs may be, we can help. We are always available to answer any questions and provide you with a free, no-obligation quote. Contact us today to learn more about our services or to schedule a free consultation.
When finding the best junk removal service in McLean, you should never look to any other option than MA Junk Removal & Cleaning Service. We're well-known throughout the community for providing top-notch service at an affordable price, and we're always available to help when you need us. Whether you're looking to clear out some old appliances and furniture or need help with a larger project, we're here to help.
What services do we offer?
You've come to the right site if you're looking for property cleanup service in Mclean. Both residential and commercial customers can choose from a range of cleanout services that we provide. We can clean every inch of your property or just a particular room or section. We also provide a hot tub removal service. The same service is also for mattresses and furniture removal. Of course, we also cater to both residential and business clients while providing our expert cleaning services. So whatever you require, we can assist! To get rid of junk, just give us a call right away.
Here are some other services we are currently offering in Mclean:
Property Cleanouts in Mclean
Rental Property Cleanout in Mclean
Mattress Removal in Mclean
Furniture Removal in Mclean
Property Cleanouts in Mclean
Hot tub Removal in Mclean
Commercial and Residential Cleaning in Mclean
Commercial and Residential Junk Removal in Mclean
Demolition Service in Mclean
Appliance Removal in Mclean
Yard Cleanup in Mclean
Why are we the best junk removal service in Mclean?
MA Junk Removal & Cleaning is the best junk removal service in Mclean because we have the lowest pricing and proper tools for hauling away junk from your property. We have been in the business for over 10 years and have the experience to handle any job, big or small.
We are also a fully licensed and insured company. We offer a free estimate to see how much your job will cost. We also have a no-obligation policy, so you are not obligated to use our services if you are not completely satisfied.
Frequently Asked Questions
How can I pay for junk removal?
Cash, credit, debit, and checks are all accepted forms of payment for our junk removal service from your property. No matter what method you choose, you can always pay after our work has been finished.
How do we charge for junk hauling in Mclean?
Typically, many businesses will base their prices on variables, including the amount of space used in the truck, the distance traveled, the cost of gas, and the time and effort spent disposing of the waste. But, we provide them with all-inclusive flat rates. Get a free estimate from our helpline.
Do we also offer dumpster rental in Mclean?
Yes, we have different sizes of dumpster rental in Mclean. You can talk to us about your needs or junk size, and our experts will recommend the best.
Best Junk Removal in Mclean