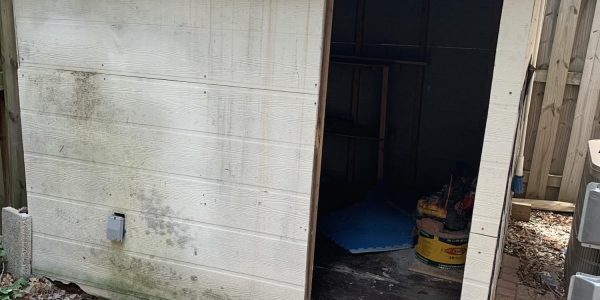 Shed Removal in Annandale, Virginia becomes essentially important when your shed is old and dilapidated. It can easily fall at any moment in your garden. However, it is obvious that it adds appeal to your house. But, any weak shed can also be a great threat to the safety of you and your family members. MA Junk also provides shed removal service for Arlington, Fairfax Station and many other cities.
Over time, the shed's material becomes weak due to extreme weather temperatures, and direct sunlight also causes the shed to become fragile as glass within a few years. Generally, people have misconceptions that a shed will last for decades without its wood decaying or iron getting rusty.
When to get your shed removed from us?
We can tell you when your decayed woodshed is going to tumble down, and damage your valuable property. Even if you are not sure that your garden shed is in good condition, please let us remove it before it damages other valuable materials of your property.
Indeed, Sheds are great storage for old bicycles and tools and become a wonderful addition to your garden. It's not always easy to get rid of an old shed from your property. Without any professional approach, you always remain unsure how and where to begin removing the old junk.
Why you need our service?
Our shed removal service always includes a safe, reliable, efficient shed demolition service and debris removal service from the shed area. Although, there are different designs and sizes in sheds. But, we are experienced professionals who can tackle and remove sheds of all sizes, types, and materials.
Go no further if you're concerned about the best shed removal in Annadale and want an experienced team to take complete responsibility for demolition and shed removal. MA Junk is the best cleaning service providing company among the other companies operating within the localities of Annandale.
Frequently Asked Questions
Can we dismantle and move a shed?
The walls of an old shed can be dismantled using crowbars if we are disassembling it. Both dismantling and removal take considerable time. Therefore, we offer a quick shed removal service for our customers.
How long does it take to dismantle a shed?
If you have the necessary equipment and know-how, disassembling the shed shouldn't take you more than a few hours, if not less. However, dismantling bigger sheds might take longer than dismantling smaller garden structures.
Do you need a permit to demolish your shed?
Most states need permission for shed demolition. In large cities, permits are necessary for any construction, alteration, or demolition of a structure. Check with your city's Building Department to see whether you need permission to dismantle your shed since some areas do not.
What types of sheds do we remove?
Sheds are made from different types of materials. We currently remove the following sheds:
Wood Sheds
Metal Sheds
Plastic Sheds
Garden Sheds
Backyard Sheds
Storage Sheds
And More!
What size sheds do we remove?
When it comes to tearing down sheds, the larger the structure, the more difficult it will be. If two persons can securely bring down a shed without the need for special equipment, our crew will dismantle it. We do a free on-site to ensure that you know precisely what you'll be spending.